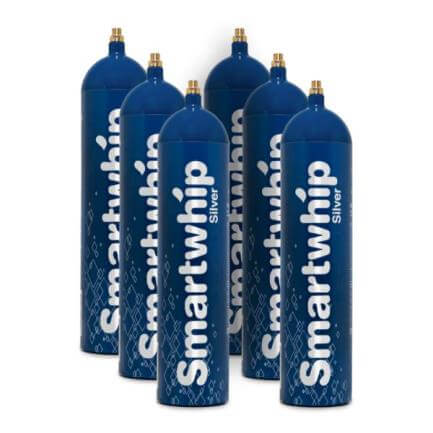 Smart whip cream charger
Category: Cream Deluxe
Tags: Buy Fast Gas Cream Chargers Online, Cream Deluxe Original Cream Charger 615g, Fast Gas 1 Cylinder Cream Charger, Fast Gas 2KG, fast gas balloon, fast gas box, fast gas cream charger how to use, Fast Gas Cream Chargers, fast gas ireland, fast gas nozzle, Fast Gas tanks Cream charger(6x640g), what is fast gas cream charger used for
Description
Smart Whip Cream Charger (New Silver Design)
NEW!
Smart whip cream charger. A set of six individual of the sleek new style 580g Smartwhip Silver Aluminium Cylinders with Nozzles
It has 580 grams of food-grade pure nitrogen oxide in each siphon, Smartwhip allows you to charge one siphon and then another in rapid succession.
It is made entirely of aluminum Smartwhip Silver is lightweight and elegant, making it more convenient to use in the kitchen, whether at home or in a professional setting and bar.
Buy Smart Whip Cream Charger Online
The most powerful tool to improve the efficiency of workflow, Smartwhip is cost-efficient by design, simple to use, and gives you more control over the texture of each work.
Enhances efficiency of workflow

Handy, durable lightweight design

The biggest cream charger with more possibilities: With 580 grams of pure nitrous oxide contained in a single cylinder you'll not waste any moment recharging.
Efficiency through the design allows the user to use many siphons from the same cylinder. Smartwhip increases productivity and efficiency, while at the same time reducing gas waste.
Quality guarantee: Manufactured in Italy, our product is purity tests and conforms to all European laws and regulations. 

The Smartwhip product is tested to ensure purity as well as pressure up to around 165 bars.

 

In this way, we are able to assure the highest quality of nitrogen oxide you can get.

First safety: Having had a pressure test at 165 bars, Smartwhip is safe to transport and use in the kitchen or behind the bar with confidence.
Strong, durable, and light: The aluminum casing of the Smartwhip Silver cylinder is light in weight, very sturdy, and withstands stress which makes it safe for utilization in a busy and hectic working environment.
Composition
The Casing100 is 100 percent aluminum, with anti-corrosion, and rust resistance.
The filling is100 percent food-safe Nitrous oxide (E942), a smart whip cream charger
Contact us now for more details so that we can quote you the best prices
Related products