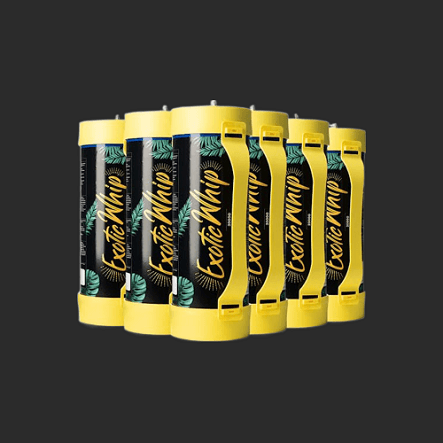 Exotic Whip Premium disposable N2O canister 2000g
The latest disposable N2O canister with 2000g content. Contains certified and tested laughing gas.
Description
Exotic Whip Premium disposable N2O canister 2000g
Advantages of disposable N2O containers
The new Exotic Whip is a 2000g disposable N2O canister. A full container holds the equivalent of over 250 traditional cream chargers. With only one container and the simple one-click nozzle system, you save yourself the trouble of unscrewing them all with one hand.
We guarantee a competitive price for all our products.
To ensure the quality of our nitrous oxide, all of our products are certified and tested.
Anonymous ordering possible
Since we find your privacy very important, we do not use any logos on the box. No one can see where the order and pack Exotic Whip Premium disposable N2O canister 2000g
Thanks to our unique production process, the flavor that you choose for your Exotic Whip cream charger will be just perfect. This is because our cream chargers don't have seams. As a result, the chance of unpleasant chemical hints of flavor is pretty much non-existent.
Create your own Whip Shots!
Using our cream chargers you can easily make your own Whip Shots at home. Not sure how? Check our guide on how to create Whip Shots at home.
Curious how Exotic Whip cream charger matches up against competitors, then check out our comparison test !
Related products